Well, the worst thing imaginable for a 2013 Jays fan happened. The Boston Red Sox, in the year after John Farrell left the Jays for his "dream job", won the World Series.
It's fair, as they played the best, both in the AL and in the World Series. They had some very solid pitching by Jon Lester, especially, and an Ortiz hitting performance for the ages. Dustin Pedroia is amazing at baseball and I will shout it from the rooftops if I have to. But I wrote my one
"hey Boston, you're alrigh
t" post this year and that's my quota. Drew Fairservice
wrote a nice, balanced piece over on Getting Blanked.
The Red Sox were serviced fairly, if you will.
So they can have their parade and tug on each other's beards all winter for all I care. I do think the parade route going over the Boston Marathon finish line site was rather offensive, but if members of the Red Sox brass use one of their four intact limbs to cut cheques to the victims, I'll get over it. Don't forget them, Boston.
Hey, Red Sox (and Sports Illustrated) about this picture:
You know who has got a really nice beard? The guy who had a .688 batting average and .760 on-base percentage, the second-highest numbers in World Series history. He reached base 19 times in 25 plate appearances sporting a nice beard. Without his herculean effort, you'd just have your beards. But you know, keep broin', bros. And don't worry about the stereotypes that hang around your ballclub and fanbase.
I'm still not going to give that much credit to Farrell. He and Mike Matheny seemed to be in some sort of contest to see who could make the most boneheaded managerial moves and have their team overcome them. This is still the "Brandon Workman hit in the ninth inning of a tie game in the World Series" World Series. I'm not entirely sure pitchers make good managers. I think catchers make the best managers. But Matheny was a catcher, so maybe it's all a wash.
I really do appreciate this guy calling in to WEEI
to complain about Farrell the morning after they won the Series. That's dedicated misery. And amazing.
I've made peace with it all. St. Louis, while blessed with rather amazing pitching and
some pretty, pretty ponies
, also has some comically
terrible fans.
Chicago Cub Adrian Cardenas
wrote a beautiful piece for the New Yorker about why he quite Major League Baseball, sounding every inch the philosophy/creative writing student he has become. I mean that in the nicest way possible.
The New Yorker
also bid farewell to Tim McCarver, in an article that makes me wonder if the writer has never heard of Vin Scully. Because " intense, intelligent, deeply informed, excitable, verbose, folksy, intellectual, opinionated, and morally fervid participation in the events on the field inexorably takes hold of you, the listener, and pushes you into the adjoining seat" is Vin Scully.
I'm really going to miss watching playoff games with my dad and hearing him mutter, "No, Tim. That's wrong. Stop being so wrong, Tim." It's the end of an era.
McCarver's argument that the "obstruction rule" should be changed to include the umpire's consideration of intent was another classic. Because allowing the umpires the opportunity for more subjective judgement calls are really going to enhance everyone's enjoyment. I'll argue that the "irregardless of intent" part of the rule is the best part and makes me love it a little. Especially when
Joe Torre puts on his sweater vest and glasses
and reads it to me from the official rulebook.
Before I close the book completely on 2013, I want to say a few things about
Great Expectations: The Lost Toronto Blue Jays Season.
John Lott, who co-wrote it with Shi Davidi, reads this blog and I frequently steal player quotes from his National Post work to illustrate whatever point I happen to be making. I enjoy his writing in the Post and it's on good display here, as is Davidi's always strong coverage.
If you are looking for a prescription for baseball success in 2014 or a simple answer about what went wrong in 2013, this isn't that book. I'm not sure that book could exist.
What it is, however, is a very complete portrait of the men that worked for the Toronto Blue Jays in 2013. There are a lot of stories, things that weren't always discussed within the season or extra tidbits that give a more complete picture of memorable instances. I'm sure it's true of many teams, but this 2013 version of the Blue Jays is full of stories. Stories about men that come from different places, to a city they aren't from and try to put on a show and win more games than any other team of men trying to put on a show.
The book's strength lies in the stories and the characters that emerge.
Mark
DeRosa
is, in some ways, the star of the book. I've come to the conclusion, through this book and the interview he did with
Mike Wilner during the World Series
, that the Jays need to find a way to make
DeRosa
a long term part of the
organization
. He's smart, both in the baseball and life senses of the word, and the work he did with Brett
Lawrie
is worth every penny of that $750,000 he earned.
Casey Janssen has an amazing work ethic and understands fundamentally what his role is. He and Darren Oliver (who, naturally, has a couple of great quotes of his own) lead the reclamation project bag of toys that was the bullpen, one of the genuinely success stories of 2013. While Jose Bautista came from a middle class existence that many of us in Canada can probably relate to, fellow Domincan Jose Reyes used to ride a donkey to baseball practice and he used a milk carton as a glove. The Mets signed a 16 year old Reyes for $13,500, which sounds like a pittance but was enough to change the lives of his family forever. He built them a new house with that money.
The image I associate with the 2013 season was Reyes crying on the field after he sprained his ankle. Joyful man with all the talent, crumpled and sad on the field.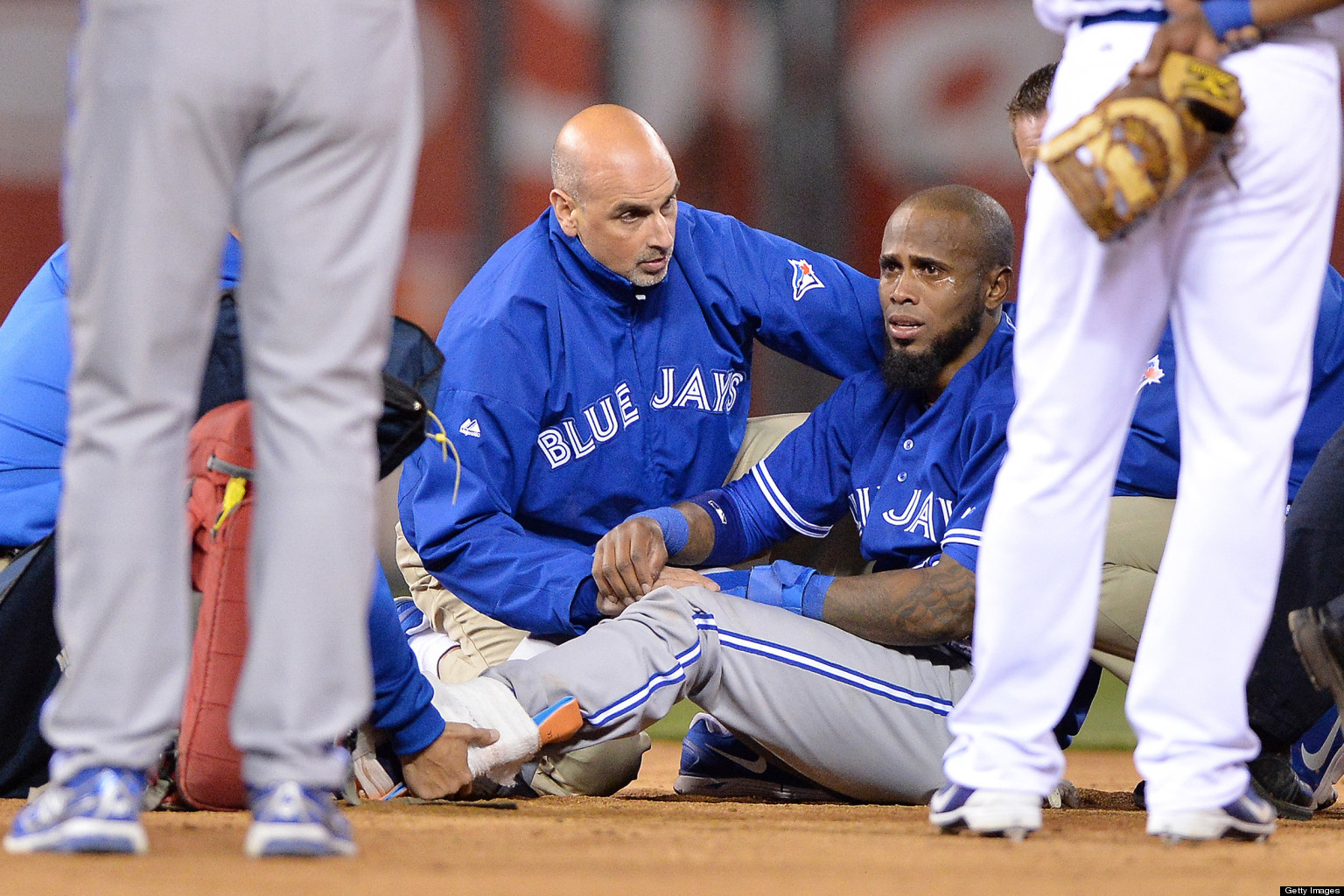 This book is full of stories from beyond just 2013. Frank Catalanotto drove a distraught Ted Lilly home after his infamous encounter with John Gibbons on the field in 2006. Lilly felt awful for the way he had behaved. John Gibbons' blow up at Shea Hillenbrand over the "This ship is sinking" incident earlier that season shook a lot of the players up because they had never seen him that angry. Hillenbrand has found Jesus in the years since he left baseball, and talks briefly about the angry man he used to be.
John Farrell advocated releasing Edwin Encarnacion, during his early 2011 struggles. I think that means, by all rights, Encarnacion should tee off in Fenway and use and abuse the Green Monster until it bleeds.
R.A. Dickey is a poet who happens to pitch. Mark Buehrle cried when Kawasaki was sent down to Buffalo. Well, his eyes were described as "wet", so I'm sure it was very masculine.
There is much debate about what team chemistry means and how it contributes (or doesn't) to team winning. If team chemistry is made up of how much a team pulls for one another, I don't think that was a problem for this team. Everyone cared about winning and about each other. They pulled for each other. There were a hell of lot of team meetings.
I don't have a solid grasp about what exactly happened in 2013 but I think it's some combination of this: due to pressure or expectations or the World Baseball Classic, the team didn't gel immediately and got off to a bad/slow start. Injuries (which were varied and plentiful) prevented them from overcoming that slow start in any sustainable way. Looking over a season of baseball, it becomes clear that a lot of things have to go right, some sort of formula needs to fall into place. And there has to be pitching. Lots and lots of pitching.
The book can be a tough read, not because it's hard to follow, but because reliving the hope of the offseason followed by the crush of the season unfolding was hard. But if all we have left of this season are great stories, this is a book full of them and is thus a worthy addition to any baseball fan's shelf.