What did you accomplish today?
I had never @ replied him before. So I consider one and done to be pretty good.
Rogers hired
Dean Blundell
for their morning show slot to team with Andrew Walker, moved
Tim & Sid to TV
and the Brady part of
Brady & Walker
to Tim/Sid's old afternoon slot before
PrimeTime Sports.
Gonna be fun having @ItsDeanBlundell batting lead-off on @FAN590 . And, yes, status is quo for #BlairShow ...
— Jeff Blair (@SNJeffBlair) January 20, 2015
Jeff, you whore.
Top 5 Dean Blundell Topics: 5. Lesbians 4. The Leafs 3. Doing racist accents 2. Arguing that offended people are the REAL racists 1. Farting
— Matt English (@matttomic) January 20, 2015
Rogers/@Sportsnet tires of being too white/male so @FAN590 hires Dean Blundell adding homophobia, misogyny, & stupidity to their broadcasts.
— Mike Spry (@mdspry) January 20, 2015
If Dean Blundell is the Fan's new morning guy, then they've finally locked down the demo for garbage piles who once threatened to sue me
— Bruce Arthur (@bruce_arthur) January 20, 2015
Heh.
I hope what I'm hearing isn't true: But hearing Dean Blundell will be new morning man on Fan590. Not sure what this means for Brady/Walker.
— steve simmons (@simmonssteve) January 20, 2015
You know it's bad when Steve Simmons says it's bad.
Some were calling for the hiring of a woman, but I'd settle for hiring a person of colour for a regular weekday show. Toronto is the most multi-cultural city in the world with a lot of sports fans. The lack of diversity here is a bit embarrassing.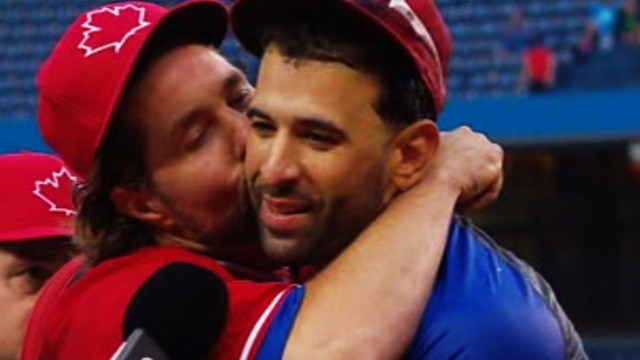 With RA Dickey in town last weekend, there was a lot of talk about Josh Thole and whether he is needed as backup. A lot of fans want to cut Thole loose because he is relatively useless the other four games between Dickey starts.
"I don't think there's any replacement for time spent," Dickey said. "Josh has caught 75 to 80 percent of my starts since 2010 or 2012 and there's nobody better … but it would be nice to have someone like Russell who can do it as well."
Jeff Blair took that quote and ran with it.
'As well?' Really? Look: I understand Dickey's fears. He probably still has nightmares about J.P. Arencibia's three passed balls in the 2013 Home Opener, which was also Dickey's Blue Jays debut. I know I do. And I realize that any time Dickey shakes off a catcher it's a sign he's going away from his knuckle-ball, so having a catcher who can think along with him is vital. But considering this is a team with serious everyday concerns in centre field and at second base, not to mention a shortstop (who will see time at designated hitter) as well as getting days off to ward off the Artificial Turf Monster, the team can't afford to waste a spot on a one-trick pony like Thole. Much like a Munenori Kawasaki sighting, if you see Thole around the Blue Jays this season it's not a good sign.
Mr. Blair, I know I called you a whore earlier in this post, but I do like you. You need to settle down.
Here is what else Dickey had to say, as reported on
MLB.com
"It just requires intentional communication and consistent communication," Dickey said. "I'm with Josh now, he doesn't even need to put down a sign. I can go a whole game without him flashing a whole sign -- that's remarkable."
"To get to that place with another person is going to be a real challenge, but it's not that it can't be done, Russell just needs to get repetitions. He's an incredible athlete. Guys who are great athletes, have great hand-eye coordination, which he possesses, usually ... have a better chance at doing it well."
There was also a bit of talk about clubhouse chemistry.
John Lott reported on the various interpretations.
While Bautista said everything was cool, Dickey elaborated a bit.
"I think having guys in the clubhouse all pulling the same rope is really, really integral," Dickey said as he tiptoed through the topic. "I think it all starts with communication and being able to deliver that in a way that is encouraging and positive. So we'll see what happens."
He paused, then added: "But I think you saw where the front office sat on the issue by the way they made the moves in the offseason."
When asked about communication or lack of, Dickey said, ""At times I think it was, sure," he said. "But probably at times it wasn't either. I'm not necessarily saying that was the reason we didn't get to the postseason. I'm just saying that's a good component to have anywhere, is people who are willing to communicate well with one another. That's not rocket science. That's something that's good in any work environment, whether it's player to player, coach to player, manager to player, GM to manager, whatever it is. I don't know what goes on behind closed doors between the GM and the manager, the GM and players. I'm just simply saying I think it's a great thing to have open lines of communication so that people know what the expectation is."
I can see how journalists could have fun with Dickey. Look at all the words- what he's saying, what he isn't saying. And I happen to agree about the communication stuff.
Talkin' 'bout girls....talkin' 'bout trucks....
Misty water colored memories......of the way, we were.
"Chicken hot dog on the way...which is cool...." He's beautifully philosophical in this video.
Colby is an Astro. I hope he's happy wherever he goes.
There is still some humming about the Paul Beeston/Dan Duquette thing. I don't have much to say about it at this time, other than I'm paying attention to see if/when it gets bitchy. Orioles owner Peter Angelos is currently in a messy legal battle with MLB and the Washington Nationals over TV rights fees, so he's distracted but it might get ornery at some point.
If you are still looking for a basic breakdown, t
his is a pretty good explanation of the situation from the Orioles' perspective.
And Drew Fairservice wrote about the situation which you should all read if you haven't already.
And finally, Danielle Norris on his development as a pitcher.
I love this kid. And his hair.
It sounds like they recorded this in a restaurant kitchen.