So, I feel weird. Shocked.
It appears instead of wrestling people over deals at the mall and finding an excellent price on big screen TVs, Billy Beane was shopping bodies.
The Blue Jays traded Brett Lawrie (and other bodies, including Sean Nolin) to Oakland for Josh Donaldson.
So much for a Canadian/Dominican co-production.
I like Lawrie a lot. He makes insane plays, his energy is something and he was charming when I met him. Thinking about him talking enthusiastically about having Martin and Pompey join him on "Canada's Team" a few weeks ago seems quaint now. I have trouble looking for pictures of the boy to include. I heard hilarious pep talk stories he gave teenagers at Baseball Canada events. Not the type of pep talks you might expect.
Oakland is talented team and Lawrie might thrive there. The stadium is a dump but San Francisco is a nice place to live. He can hang out with people at Google.
There was a little ballyhoo about Lawrie playing some 2nd and how he might not have liked it all that much. My thought was he's a great athlete, he used to play that position and he also doesn't really get to make that call. Lawrie backed away from statements and said he'd play wherever for the team.
There might be more concern about Lawrie's obliques than the Jays said publicly. And sure enough, right after I write that sentence, this appears:
"People can talk about WAR," AA said, but then emphasized Donaldson's durability. He's missed just 8 games last two seasons. #bluejays
— Brendan Kennedy (@BKennedyStar) November 29, 2014
Sometimes you just make assumptions about your team. You get used to the idea of having certain guys in certain spots and you just assume certain Canadian fireballs are going to stay. But it's a business and AA is looking to win. Now. His job depends on it.
He has to pay off that Honda.
As for the new guy, per Stoeten:
7.7 and 6.4.
Those are Donaldson's WAR totals in each of the last two years, according to the FanGraphs version of the metric. He was first and second (by 0.2) among MLB third basemen in those years respectively. He hit 24 and 29 home runs — in Oakland. He walks at an above average rate. He plays tremendous defence (UZR of 15.5 in 2014, DRS of +20). He put up a 147 wRC+ in 2013, and a 129 this year.
I guess he'll do. He's a few years older and has "broken out" as opposed to " maybe about to break out." He's under control for four years, which is exactly the kind contract AA likes. Control gets him going.
Also, Donaldson, like Martin, is a guy who's been on a playoff team. Jose Bautista is a great many things, but he's never been on a playoff team. It all plays in to the idea that AA is in it to win it.
I don't think Donaldson is in this picture (he's got a generic white boy look, and Oakland has it's fair share. They had great hair last year) but I just enjoy it.
Speaking of hair, Donaldson appears to favour a faux hawk/rat tail combination.
His dad spent most of Donaldson's childhood in prison and didn't see his kid play baseball until 2013. In that game, his kid had two hits in three at bats, walking twice, with a homer, a double and three runs batted in, in a 9-8 Athletics win.
His dad's name is Levon. I've got Elton John in my head. That song was written about Levon Helm, btw.
Plus,
"I have definitely watched thousands of hours of Bautista hitting," Donaldson said. "Bob Melvin actually had to stop me from watching him. He said, 'Hey, I want you to be your own guy.' "
And then,
Josh Donaldson loves Jose Bautista, btw. He modeled his swing on Bautista's to a large extent.
— Susan Slusser (@susanslusser) November 29, 2014
Now they can swap recipes and braid each other's hair.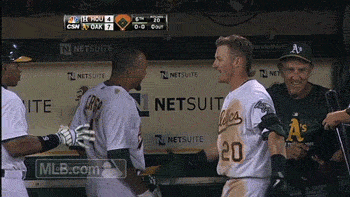 Read this
, cause Ian from Blue Jay Hunter gets cited. Like a boss.